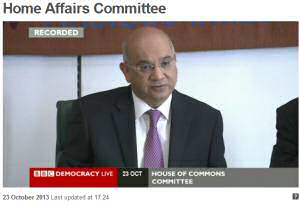 Plebgate is a scandal that began with a politician (Andrew Mitchell) swearing at a police officer and having to resign.  It then turned into the police investigating the honesty and integrity of its own officers ("plodgate").  On Wednesday (23/10/13), the Home Affairs Select Committee (HASC) showed that there is more confusion between fact and fiction in this story than in a good Dan Brown novel.  For example:
Three Chief Constables apologised for their officers' actions – but the officers refused to do so.
The officers claimed they had been accurate, but most others agreed they had misled.
The Independent Police Complaints Commission (IPCC), Senior Investigating Officer (SIO), and Chief Constables differed as to the charges that should be laid against the officers.
The SIO disagreed with his own report, which he had signed as author.
The way the SIO finalised the report's conclusions was probably illegal.
The Chief Constables disagree as to whether the report's conclusions need to be reviewed.
How does mythology help explain this fog of confusion?