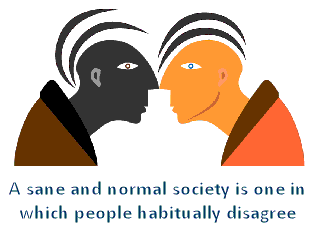 In Jung's last work on the theory of psychological types, published posthumously, he introduced the topic by writing:
"A sane and normal society is one in which people habitually disagree" (Jung 1964, p. 46).
Jung didn't say (here) why individual disagreements are important to society, but the reasons are evident from many of his writings from 1914 onwards, when he started formulating his theories about "the process of becoming" (Jung 1914, p. 183).
Constructive disagreement is a vital part of Jung's process of individual and cultural development and it reduces conflict in societal or international relations. This may seem counter-intuitive, but it is a natural corollary of Jung's theories of individuation and collective compensation. I'll start by explaining these aspects of Jung's theories, and then conclude with some practical guidelines on what it means to disagree constructively.