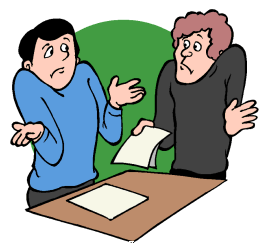 Your personality type can change the meaning of the words you use.  This can potentially lead to confusion, misunderstanding, or conflict.
Sorry
For example, people who prefer Thinking tend to use the word "sorry" to mean they have made a mistake.  Those who prefer Feeling tend to use it to show sympathy or empathy.  This can lead to misunderstanding because:
When a Feeler says "I'm sorry", the Thinker can misconstrue this as being an admission of an error.
When a Thinker fails to say "I'm sorry", the Feeler can misconstrue this as lacking care or concern.
In some cases, the argument that ensues can end up in the law courts.  For example, if a doctor apologises for the bad outcome of an operation, a patient might mistake this for an admission of liability.  (Using an apology as evidence of liability has been outlawed by some US states.)